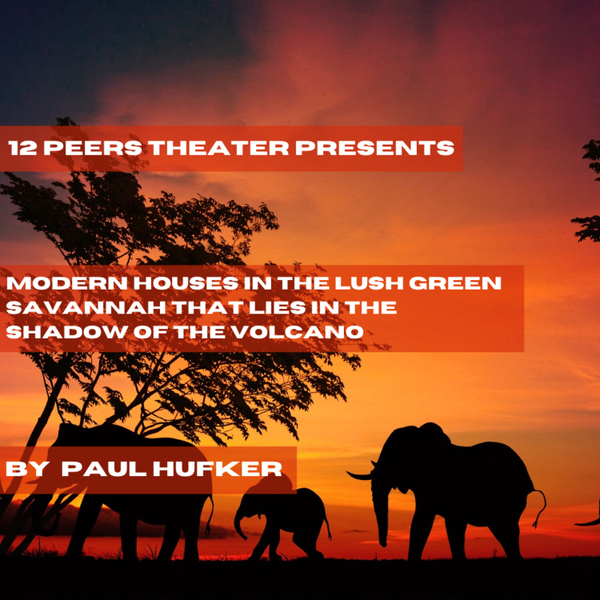 Modern Myths Podcast
Episode 24 - Modern Houses in the Lush Green Savannah that Lies in the Shadow of the Volcano by Paul Hufker
S1E24
1:21:53
January 24th 2021
Modern Houses in the Lush Green Savannah that Lies in the Shadow of the Volcano
by Paul Hufker
Directed by: Brett Sullivan Santry
Featuring:
Featuring: Cassidy Adkins, Ron Black, Larissa Jantonio, DeVaughn Robinson, and John Teresi
Synopsis
The edge of everything. Four western 20-somethings have come to this wild, unfettered place to "live life as it was meant to be lived." They'd like to open a yoga studio for the women of the village. To help them. But there's a chained elephant that desperately needs its own help, and are we sure the villagers are peaceful? Suddenly the earth is very dry, their money has run out, and their baby is missing. They are fored to hunt. Things here have quickly become dark and desperate.
Can man outrun himself?
Paul Hufker Biography
Paul has been an AEA actor, playwright and director in NYC for over 13 years. He is a proud graduate of Brooklyn College's MFA playwriting program, under Mac Wellman and Erin Courtney.
Most recently, Paul became a resident playwright with the 29th St. Writing Collective, in NYC.
In the spring of 2020 (just before COVID) Paul had his play Birthday in the Bronx premiere at The Tank Theatre (NYC.)
Paul also recently worked with fashion designer and political activist Carla Fernandez, writing her London fashion show/protest piece, which debuted in London in 2018.
Also in 2018, Paul worked with world-renowned visual artist Pedro Reyes, writing his Noam Chomsky-Inspired puppet play Manufacturing Mischief, which premiered in NYC and internationally, and was directed by Meghan Finn.
In the fall of 2017, Paul wrote the script for Pedro Reyes' massive art installation in Brooklyn entitled Doomocracy, also directed by Meghan Finn.
He is a 2018 Eugene O'Neill Prize Semi-Finalist, a 2016 Great Plains Theatre Conference invited playwright, a 2015 and 2016 Himan Brown Award winner (through Brooklyn College), a 2016 O'Neill Conference semi-finalist, a 2016 American Theatre in Higher Education Excellence in Playwriting Award finalist, a 2015 Jerome Fellowship finalist, a 2014 Princess Grace Award semi-finalist, and a 2011 O'Neill Conference semi-finalist. His plays have been produced in NYC, throughout the US, and in Toronto, Canada, as well as at MIT, the Museo Jumex in Mexico City and the Serpentine Gallery in London. He is currently a full-time Teaching Instructor at Rutgers University, in their Writing Program, and a proud graduate of Webster University where he received his BFA in theatrical performance.
Paul has upcoming projects with: The American Vicarious (workshop), The Bechdel Group (workshop), 12 Peers Theatre Company (podcast), the 29th St Playwrights' Collective (reading) and Meghan Finn (short film), Artistic Director of The Tank, NYC.
Modern Myths Podcast
12 Peers Theater continues our new play podcast featuring 6 new play readings. In an effort to make theatre more accessible and on demand, the 6 new plays will premiere online with episodes extending into May 2021.
Support Us
Donate with